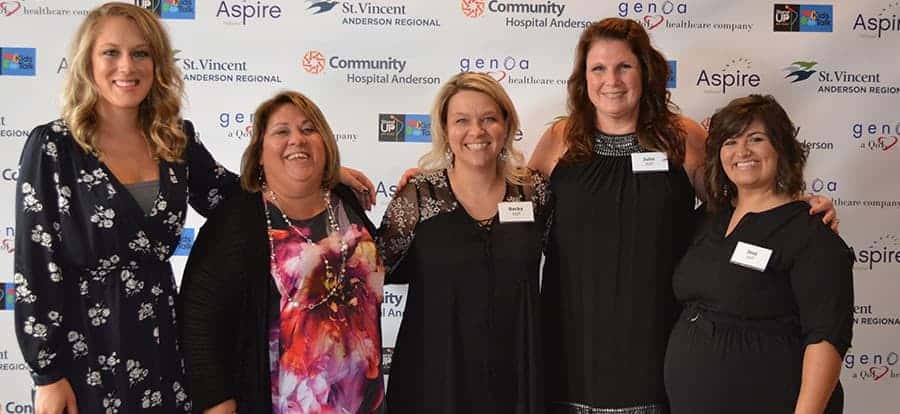 Denise Valdez sits on a chilly December morning as a crew of people bustle behind her, removing security equipment and office furniture. "After the big four," Madison County is usually right there in 5th place in abuse rates," she says. Valdez is the Director of the Kids Talk Advocacy Center in Anderson. They're moving to a new, larger location on West 14th Street.
Madison County seems to miss the attention of law and policy makers. After the top population centers of Indianapolis, Lake County, Fort Wayne, and Evansville, Madison County seems to routinely get Hoovered into Indianapolis' orbit. Their caseload demand is proving to be one of Indiana's largest, at around 650 children interviewed at Kids Talk in 2016, up from 427 in their first full year of operation in 2015.
"Kids Talk started with a group from Aspire Indiana, the Prosecutor's Office, and the CASA Director all noting they needed a CAC in Madison County," says Valdez. "We used to have one, but it didn't work out, so Aspire Indiana agreed to take on the program," she adds. Aspire Indiana is a community mental health and primary care services provider that, as Valdez explains, "Is really good overall for us. We're striving to be self-sustaining, but I know that if this CAC ever has a crisis, Aspire will make sure our work continues. They're very proud of this CAC."
Valdez learned about CACs when she was working in her own nonprofit, Legacy House, in the early 2000s. Valdez says she and her team, "Dreamed of a place that would have no red tape. Our intake process was a 3-minute phone call. There were no fees." That's when she learned more about child abuse. "The case that's stuck with me the longest was around that time. There was a 16-year-old girl, and she looked like the most broken child I'd ever seen. I remember the counselor coming into my office and crying after she spoke with her. Her story of forced prostitution and being made to sell drugs in school by her mother was bad enough. But after her mother got out of jail, she blamed her daughter and shot herself in front of her. It really shook me."
At Kids Talk, growth in the last two and a half years has led to the hiring of three forensic interviewers and a Victim Advocate, in addition to herself. In the same time, Kids Talk has served 1,130 children. Now, Valdez and her staff are moving offensively and bringing programming into schools. "We work in elementary schools, like a lot of programs, but we went further and work in middle and high schools," explains Valdez. "It's so impressive. We see thousands of children and we do no marketing for this program – the schools just come to us." It's become so well-known that lack of funding means they're hitting the limit of hours the Program Coordinator can work, who also splits her time as a Victim Advocate. "We're in schools every day, every week, this January through March," says Valdez.
Those programs go beyond typical body safety convocations and talk about legal issues around sexting, Internet safety, rape and sexual assault, and "big, grown-up problems facing kids", as Valdez puts it. "As an example, we spoke at a middle school in October," Valdez continues, "in front of 1,500 kids and by the end of the week we had 291 who wanted to talk to someone." Indiana DCS caseworkers come along and are on-site at the same time. Using electronically submitted forms from students, caseworkers talk further with children immediately to determine if legal investigations are warranted. "20 of the 291 were legitimate abuse cases. At least 70 were referred to counselors about pressures to have sex, suicidal concerns, and more," says Valdez.
As 2017 begins, Kids Talk is expanding into a new, larger space, offering dozens of courtesy interviews in nearby Tipton County, and Valdez is on the search for sustainable funding for new staff. "We never intentionally hired an all-female staff, but I want to find a male who can do forensic interviews and prevention programs. My staff does a fantastic job, but I know some kids, especially young teenage boys, just find it easier talking to another male." Valdez noted the reaction of boys and girls as her staff would speak to a classroom and then the male representative from the Prosecutor's Office would speak. "I'm not going to take a feminist stance and say women can do everything on this. The fact is for some people a male is needed and more relatable. We can't ignore that."
As Madison County grapples with drug and opioid problems, a fast changing and arguably deflated workforce, and rapidly increasing rates of neglect, Kids Talk and Aspire Indiana are trying to keep pace with the demand. "Kids are witnessing a lot in their homes. It's not just from drugs and weapons, but adults that are there for drug deals who molest a child while the parent is under the influence. "Those are big trends of us. Sex abuse in Madison County is the most rampant and the biggest crime we help children with," says Valdez.
To learn more about Kids Talk and Aspire Indiana, visit aspireindiana.org/kidstalk, or visit the Kids Talk Facebook Page.