Nestled into a small and cozy room at Susie's Place Child Advocacy Center in Avon, Indiana, Heather Eberth-Teike (pronounced like "Tie-Key") is doing inventory. She's not counting the number of children's chairs in the room or books on the shelves. She's taking inventory of a child's most traumatic life experiences.
Susie's Place in Avon has joined a growing list of child advocacy centers providing mental health services on-location and in conjunction with other CAC services. It's also part of a nationwide accreditation push. Susie's Place Executive Director Emily Perry routinely says, "This is a place where alleged child victims of trauma can come to an end and healing can begin."
No one believes that a child who has gone through alleged physical or sexual abuse could simply walk away without some part of their being changed. So to make sure that Susie's Place is truly where healing can begin – and continue – Teike has setup her private office down the hall and behind a door from the rest of the Susie's Place forensic interviewers and multi-disciplinary team members.
Teike's career in psychology, psychotherapy, and mental health has led her to focus entirely on Trauma-Focused Cognitive Behavior Therapy, or TF-CBT for short. Teike explains TF-CBT is "the evidence-based best practice approach for therapy and intervention protocols for children who have experienced any kind of alleged abuse, neglect, or disruptive events like natural disasters." This could mean anything from a flood that destroys a family's home, or most likely the case at Susie's Place, a child suffering from alleged abuse, neglect, or sexual assault.
"Prior to coming to Susie's Place I specialized in various kinds of mental health cases, then spent 12 years working with children and trauma. Here at Susie's Place children are always clinically assessed for social and emotional behavioral issues as well as assessing the impact of the trauma. We take a full inventory of their experiences and ask how the family is functioning," says Teike.
Employed by the Indiana Center for Children and Families, Teike is not technically a Susie's Place employee, and does not sit in on forensic interviews, however she is a multidisciplinary team member. Her office is located in the building, and children and families who come to Susie's Place are routinely referred to her, but they are not required to take part. Though Teike adds, "It makes for a smoother referral process and makes securing appointments faster," now that she's on-site. "Most of the time I rely on Maria Larrison, the Susie's Place Child and Family Advocate, to refer and introduce families to me. She is the key piece to getting families scheduled," says Teike.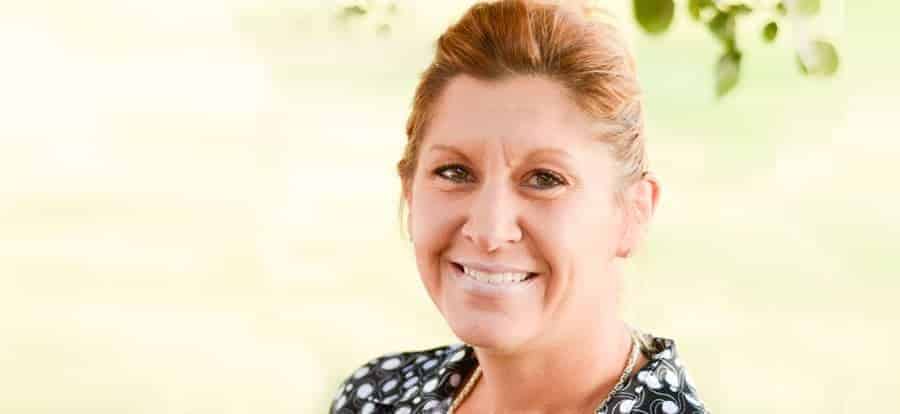 Teike's presence at Susie's Place fills a noticeable gap between the moment a family is referred to a therapist and them actually showing up. The "face-to-face contact" between Teike and families after a forensic interview has made for a heavy and increasing caseload.
The reasons for offering TF-CBT are staggering. The National Center for Victims of Crime reports 3 out of 4 sexually assaulted children "knew their abuser well", and children who are the victim of prolonged sexual abuse usually develop "low self-esteem, a feeling of worthlessness and an abnormal or distorted view of sex. The child may become withdrawn and mistrustful of adults, and can become suicidal." Compared to just males with no prior abuse, those who have been abused are five times more likely to cause teen pregnancy, three times more likely to have multiple sexual partners, and two times more likely to have unprotected sex, according to the Journal of Adolescent Health. Further, sexual trauma can extend beyond just physical contact and includes child pornography and voyeurism. An abused child today can have lasting impacts as they become adults and start families of their own.
Teike knows people want a visit to a therapist to be as quick as a visit to a physician for a cold. "I always have to explain to my clients there's not a quick fix. I know it's a quick-fix society, and many believe that this can be done quickly, but this is a process. It's usually 12-16 sessions, and while it can be modified, I have to tell families it takes time and is a process."
"Our goal is reduction and stabilization of symptoms, whether that's anxiety, PTSD, depression, or eliminating self-harm. It's to stabilize the family so caregivers can better help support the child," says Teike.
TF-CBT frequently extends beyond the child and to the adult family members. Teike reflexively adds, "Parents and caregivers want to focus on behavioral issues of a child. They often want therapy to fix that. Most often these behaviors are symptoms of deeper issues related to the trauma. I often uncover what could be multiple traumas, not just the one they came to the CAC about. I also frequently hear that there's a pattern of abuse in families. Very often I hear mothers who say "this happened to me". So we try to get caregivers therapy as well. There's so many layers to a child coming into therapy." The National Center for Victims of Crime shows studies in 1986, 2000, 2002, and 2005 that women who had suffered sexual abuse by a family member also reported a rape or attempted rape after the age of 14 at rates as high as 86%.
Very often I hear mothers who say "this happened to me". So we try to get caregivers therapy as well. There's so many layers to a child coming into therapy.
It's also not uncommon for families to push back against therapy. "I'm bound to confidentiality", says Teike, who routinely knows when a child walks in "something happened" but not the details of what that child has endured, is still bound to report dangerous situations to authorities. "The initial forensic interview is usually the tip of the iceberg. Even if it's an accidental disclosure, it can be a domino effect. When they enter counseling there are often other disclosures." Those other disclosures of alleged abuse can mean more police investigations, caseworker visits from the Department of Child Services, and more of what some families perceive as things to be buried or ignored.
Fear of the cost of TF-CBT isn't lost on Teike or Susie's Place either. "My agency," says Teike, "accepts most private insurance and Medicaid, which is hard to find in licensed trauma-focused therapy. But clients with private insurance still fear the overhead of copays and deductibles." That's where the Victims of Crimes Act grant – or VOCA –comes in. A large federal grant that awards money to states based on child abuse metrics, VOCA has funded Indiana with millions of dollars to help reverse abuse trends and aid victims of abuse. With VOCA, "The client will often never pay a penny", says Teike. VOCA covers people without insurance, and even those with it who struggle with high deductibles or co-pays. "Even if insurance lapses, VOCA picks it up."
The results are promising as TF-CBT has been shown to be an effective therapy for trauma. This year, Teike expects to conduct an estimated 1,100 sessions, with nearly all coming from Susie's Place's estimated 400-500 case caseload this year. "Whether it's grief and loss, being bullied at school, or any number of other things that a child perceives as abuse, we do a full inventory of those events," says Teike.