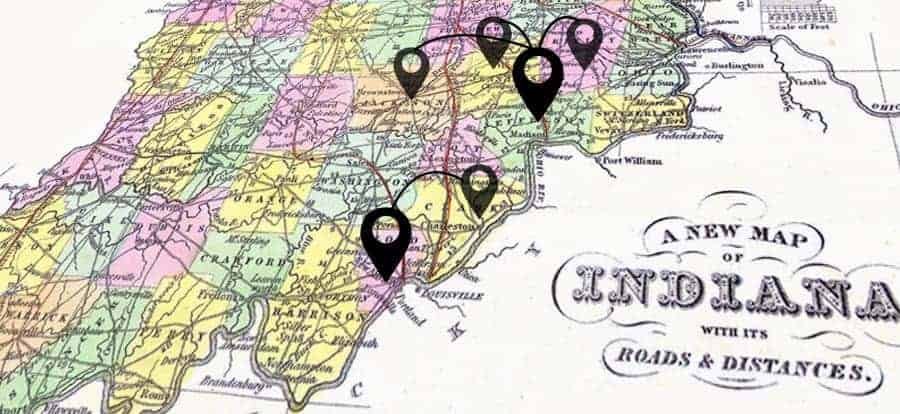 Indiana Child Advocacy Centers conducted over 10,000 interviews in 2016. The most ever done in a single year since the first Child Advocacy Center opened in 1991 in Elkhart County. Through most of the last decade, CACs have dramatically expanded their coverage area, added new services like mental and physical health screenings, hired Victim Advocates, and have put immense effort into becoming accredited centers by the National Children's Alliance.
The increasing demand for service requires CACs to work at a scale that produces results. There are no CACs in Indiana working with lulls in service, plus, Indiana enjoys coverage in 89 of Indiana's 92 counties. But in rural counties with populations under 35,000 people where it's fiscally irresponsible to open and operate a CAC, demand may be high enough to require semi-consistent service, but not sufficient to open daily. For those counties, "Satellite Child Advocacy Centers" play an important and fiscally responsible role.
In "the Heel of Indiana," as the Children's Advocacy Center of Southeastern Indiana Executive Director Sarah Brichto calls it, "We started in Dillsboro [Dearborn County] in 2009, and it wasn't until 2011 until we seriously looked at a satellite location in Madison [Jefferson County]." The Southeastern Indiana CAC covers a large area of six counties.
"We were modeling our CAC off Quincy, Illinois' Center, which is also a regional CAC and serves nine counties there. They had the main office with three satellite offices," says Brichto. "It was always our plan to have a central and satellite location," she says.
Despite Versailles [Ripley County] being more geographically centered, SEICAC established itself in Dillsboro to be more population-centered. Starting in 2012, "We started seeing more cases in Jefferson County, at about 100 cases," says Brichto. That's about one-quarter of their entire region-wide caseload. Now, "We're expanding into more counties to the West, like Jennings and Jackson," says Brichto.
The original satellite location in Madison was within the DCS office in Jefferson County. "We later got together with the Clearinghouse of Jefferson County and formed our CAC there," says Brichto. The benefit included lower rent costs and a pool of other mental health and like-minded agencies clustered into one building. In 2013, the team moved their Satellite location to the Clearinghouse in Downtown Madison for extra space but is still a shared building that includes an on-site receptionist.
While some costs are higher or lower than a typical CAC because of the "part time" nature of the satellite office, one line-item that is considerably higher is travel. "The office is only open when we need to come there for a child. Just paying mileage and other mobile equipment costs, it does cost more per case than if we operated at our primary Center in Dillsboro," says Brichto. "It worked out to just about $16,000 a year to maintain the primary office after subtracting federal grants, whereas the caseload in Jefferson County is more like $40,000 a year. But it's reasonable and worth it because it's better for children and families not to travel 43 miles."
Other regions of Indiana benefit from satellite child advocacy centers, such as the Fort Wayne area CAC in northeast Indiana. There, Program Director and forensic interviewer Trisha Fox operates a primary CAC at the Dr. Bill Lewis Center for Children and a satellite location. "We have a satellite office in LaOtto that runs interviews with a full team every Wednesday," says Fox. "As it catches on, we'll likely run it more days of the week," she adds.
"If it's an acute situation, they still have to come to Ft. Wayne," says Fox. "We're trying to expand our services. We're hoping to open another satellite location in southern counties [of Fort Wayne] soon." The current satellite location, "Operates out of an old elementary school and shares space with a volunteer fire department. If you can imagine a school, we use the front office for a waiting room, lobby, and team rooms. We have mobile equipment and run most of our work off a single Microsoft Surface tablet," she says.
A third satellite CAC operates across a literal bridge. In south central Indiana, Becky League manages the Kosair Charities Child Advocacy Center in Louisville, Kentucky. Kosair Charities opened a primary Indiana CAC in New Albany, Floyd County just across the Ohio River to facilitate cases that start on the Indiana-side of the Louisville metro area. A satellite CAC opened in Jeffersonville, Clark County just to the west shortly after that.
Like all of the CACs working in Indiana, primary and satellite locations cost money in either lease, staff, or travel expenditures. SEICAC's Brichto echoes a fundamental goal when operating any facility, "We must always make sure we have buy-in from a community and its residents to help us offset costs." Even at varying levels of expense, the return on the investment saves money and time for investigators and prosecutors and protects the health and safety of children and families.