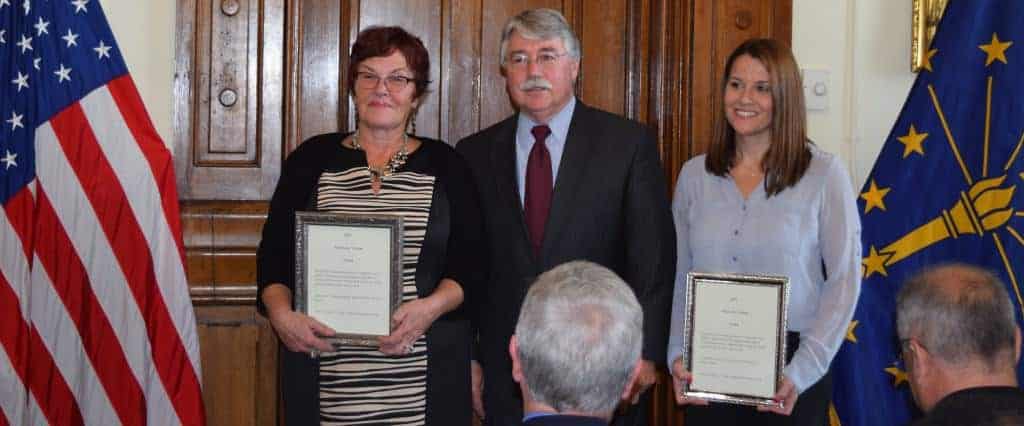 Attorney General Greg Zoeller Presents Victim Service Awards
Indiana Attorney General Greg Zoeller presented Indianapolis-area victim service providers with 2015 Voices for Victims awards today to recognize their outstanding dedication to serving and giving a voice to victims in Indiana.
The Voices for Victims awards program is part of the Attorney General's new Victims Services and Outreach Division, which Zoeller established in May of this year to focus support on victims of violent crimes, including human trafficking, domestic violence and sexual assault. He said the awards were inspired during recent visits to victim service providers across the state that showcased the brave and selfless work being done by individuals to help those traumatized by violent crime.
Our own Donna Lloyd was awarded for her tireless efforts:
Donna Lloyd, executive director of Comfort House. Comfort House in Corydon is one of 21 Child Advocacy Centers across Indiana that provides specialized assistance and counseling to children of sexual assault. Lloyd has served as executive director of Comfort House since 2006, and hundreds of child sexual assault victims have been served through her leadership. She also spearheaded Southern Indiana's first child abuse prevention program in Harrison County. Through this program, more than 1,500 children have been reached with preventative child abuse training.
"These extraordinary leaders embody the compassionate, selfless and often unnoticed work being done to support some of the most vulnerable people in our society – those who have been victimized and traumatized by violent crime," Zoeller said. "The road to recovery for these individuals is long and difficult. The awards recognize the heroes among us helping victims to navigate the legal system, process trauma and rebuild their lives."
Zoeller said the award recipients exemplify the mission of his office's new Victim Services and Outreach Division, which is to ensure victims have access to assistance and are treated with dignity and respect in the court system and beyond.
Zoeller presented Hurley and Rader with Voices for Victims awards at a ceremony at the Indiana Statehouse in Indianapolis today. Berry's award will be presented to her at a later date.
The Indianapolis-area award recipients are among 10 other victim services providers receiving Voices for Victims awards statewide. Recipients include victim advocates, directors and staff at victims' shelters, survivors and others who have shown selfless devotion to the causes of victims, either on behalf of individuals, or in policy roles, legal representation or in other ways. Service providers are especially recognized for their dedication to underserved and vulnerable populations, including children, women, immigrants and ethnic groups.
Award recipients receive an honorary plaque and will be recognized in the Attorney General's monthly newsletter sent to the approximately 400-member Victim Advocates' Network created by the Victim Services and Outreach Division to connect and provide resources to those who serve victims in Indiana. Advocates who are interested in joining the Victim Advocates' Network can contact the Attorney General's Office by emailing VictimAdvocateNetwork@atg.in.gov.
The Indiana Attorney General's Office also offers programs to assist victims directly. Domestic violence victims can obtain the assistance of the Hope Card program which summarizes court protective order details on a laminated card for a victim to provide quickly to law enforcement. Victims also can participate in the Address Confidentiality program that provides a secure mailing location where victims of domestic violence, sexual assault or stalking can receive their mail to ensure their perpetrators do not discover a new street address.
More information about these resources can be found at www.in.gov/attorneygeneral under the "Victims Services" tab.