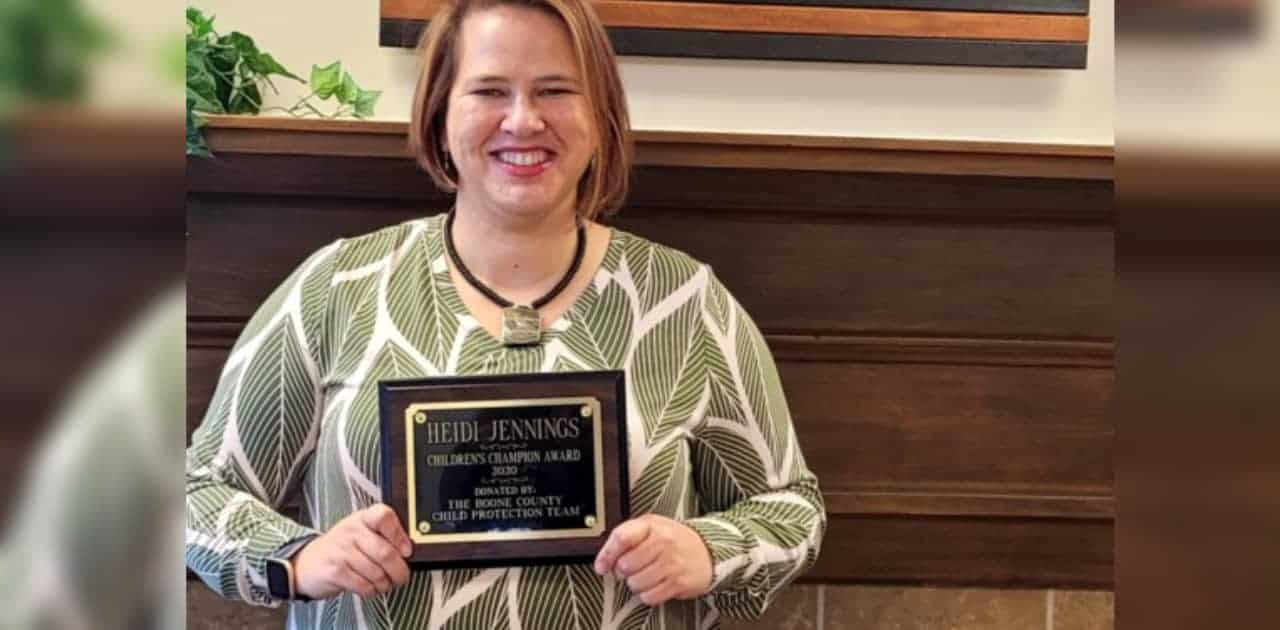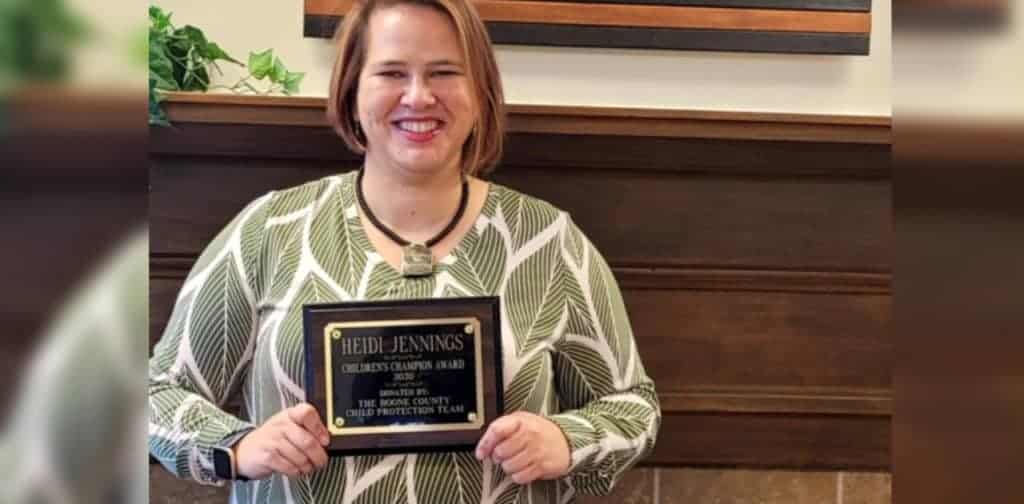 On November 18, Boone County Prosecutor Kent Eastwood sent an important email to his Deputy Sex Crimes Prosecutor, Heidi Jennings:
"Heidi, we have an urgent meeting with the Sylvia's CAC Board. I need you there to talk about child abuse and pornography statutes. We'll communicate with them virtually, but we should be together in the conference room at 3."
Given the people in the room, Jennings got dressed up and prepared.
Upon walking into the large conference space, complete with people on the screen waiting online as others joined in, Jennings took her seat. Soon, Eastwood admitted to the surprise ruse. Jennings wasn't there to talk about statutes. She was there to find out she's receiving the Boone County Chamber of Commerce's annual Children's Champion award.
The recipient of the Children's Champion Award is selected by the Boone County Child Protection Team, which consists of members of law enforcement, prosecution, medical and mental health physicians, caseworkers, and other child welfare professionals.
Jennings' time in the Boone County Prosecutor's Office spans just over a decade. "Before she was a prosecutor, she was an attorney for the Indiana Department of Child Services," says Eastwood. "Within about two years she started here, sometime around late 2008. And within two years of that she went from a Deputy Prosecutor to our Deputy Sex Crimes Prosecutor."
It's in her role as Deputy Sex Crimes Prosecutor Jennings has been able to shine. Her tenacity and competence in pulling out every thread of evidence has led to convictions in an expanding caseload of crimes against children. As Eastwood describes, as Boone County's population and growth tracks upward, so too does the complexity and number of cases coming into the office.
Two high-profile cases from the past year caught everyone's attention.
With an aura of pride, Eastwood says, "Heidi was able to successfully prosecute Dr. Jonathon Cavins with five counts against five patients of his.". The Lebanon pediatrician was found guilty in February of two counts of child molestation, one count of sexual misconduct with a minor, and two counts of child seduction.
The team suspects there were likely more victims, but under Jennings' lead, the Office captured seven convictions across five tender-age pediatric patients. "When a pediatrician gets charged with a crime like this, you can imagine the impact," says Eastwood.
In another case just two months later, Gretta Feil pled guilty to two counts of child abuse after she abused her granddaughter earlier this year. In a case eerily reminiscent of Sylvia Likens in 1965, for whom the Boone County CAC is named, the child's father sent his daughter to stay with his grandmother. While there, Feil repeatedly burned and scalded her young granddaughter's face and body with boiling water.
Unlike the Likens case 50 years ago where neighbors heard screams from the basement but did nothing for sake of privacy, neighbors called 911 on Feil.
"If it hadn't been for the neighbors, this abuse would have continued to worsen over days. Doctors believe this could have led to this girl's death," says Eastwood. "These were really important cases and Heidi was at the forefront of both."
For Eastwood, Jennings' work means more than just successful convictions. "What this represents to our community is: you see something, you say something. And that we don't let our kids down."
Within a day of being told she was receiving this award, Jennings was "actively investigating and starting charges on three different cases. Heidi is leading it all the way," says Eastwood.
Because of COVID-19 concerns, this year's ceremony is presented in part through a video, with formal announcements on December 3.
Recipients don't usually receive any gifts, though Eastwood notes, "We did get her some Diet Mountain Dew, which is her favorite, and a few other of her favorite things."