You've likely never met anyone with as much of an interesting backstory into how they got into their career as Christopher Cecil. Cecil is a Computer Forensic Examiner in the Indiana State Police Cyber Crime Unit. It's a role with the Indiana Internet Crimes Against Children Task Force that combats everything from child pornography to threats and aggressive bullying to investigating offline crimes with online components. It's also a role he earned because of a new suit.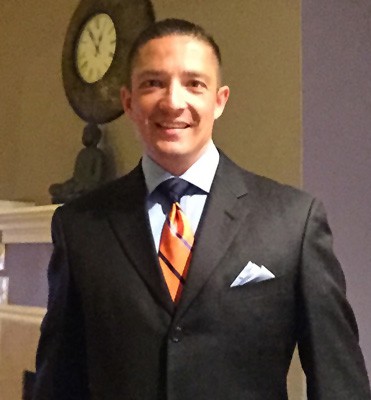 A Madisonville, Kentucky native, Cecil spent time in the 90's in the Marines, majoring in religion and archeology and minoring in philosophy at the University of Evansville, a brief stint studying law in California, and employed at a cultural resource management group outside Washington, D.C. as an archaeologist performing terrestrial and nautical archaeological surveys throughout much of the mid-Atlantic and southeastern states. Through all that, Cecil returned to Evansville in 2003 and worked in a national men's clothing retailer selling suits. "I learned more about people's behavior, and how to overcome behavior – like men who don't want to be shopping – in that job than anywhere else," says Cecil.
"One day a retired Indiana State Trooper came in to get a suit. He talked about his work undercover and as I sold him a suit that day he told me I should consider a career with the State Police.  I later learned they were taking applications. By May 2004 I was in Plainfield, Ind. going through the State Police Academy and graduated in October 2004," recalls Cecil with the same speed and excitement as if it happened yesterday. A series of promotions and assignments later, Cecil finds himself working out of a hub on Indianapolis' east side tracking down online predators and criminals with the State Police.
Cecil is no stranger to discussing ways parents can be involved with their children's virtual lives. But for all the myriad of posts available online about protecting children against predators and bullies, far fewer speak with the kind of vantage point Cecil does after 12 years in law enforcement.
"We are the Jetsons now," says Cecil. Flying cars and robotic kitchen tables aside, investigators like Cecil maintain a level of lifelong learning that many adults would find frustrating and sometimes scary. But in many ways the crimes committed online today are a lot like they were 10 or 20 years ago. "It's evolving; people are transitioning from a computer to a cell phone or tablet. Everyone has a smartphone, even kids as young as 10. So a lot of things going on 10 years ago, like Peer-to-Peer file sharing, has just moved to a cell phone."
Peer-to-Peer file sharing became popular for downloading music and software in the 90's and 00's because the source files are difficult to trace. Files don't live on a server like most things people download. Instead files are spread apart across individual user's devices, like a large-scale game of whack-a-mole where everyone has a small piece of a file set, but no one necessarily has all of it. This makes it attractive to child pornographers, who can distribute illegal photos and videos without it residing on a single, central, server.
To parents, Peer-to-Peer services are likely an obscure concern, but messaging apps are not. Millennials who are themselves becoming parents remember how they used Yahoo Messenger, ICQ, and MSN Messenger 15 years ago. Those habits have evolved as youth have moved to Facebook, Kik, Twitter, Snapchat, and other platforms. But Cecil says new millennial parents don't seem much different than their Generation-X or Boomer parents. "I've seen situations where parents are watching what kids are doing, and others where they're not," and that's what makes the difference.
It may be effective to remove or prohibit devices from children to keep them as safe as possible, but parents no doubt feel the wrath of removing a device from a child's hands. "Parents want kids out of their hair sometimes, I get that, but they're not going through the devices once a week or so to make sure kids are okay." Cecil suggests setting "Internet Time" as a part of a parent's overall approach, like "setting time limits of 6 pm to 9 pm." But more importantly, adults should understand features of all sorts of devices. "Even on game consoles, like Xbox or PlayStation, kids can talk to people through those devices."
For parents and service providers like social workers, counselors, child advocates, and others that profess ignorance about technology or otherwise don't understand it, Cecil has simple advice. "You need to take a vested interest. We talk about not talking to strangers or getting in a stranger's car. The same goes for technology. You can at least have a conversation. Better yet, sit down with the child and play their game with them, or have them show you what an app is or does. It builds a relationship, and boosts the kids' ego because they're teaching mom and dad. But really you're looking to get a better understanding of what they're doing."
This strategy works well for younger children, but teenagers are less likely to engage in a conversation about what a new app does with their parents. They're also more likely to clear browsing histories and cover their tracks. Regardless, parents can still set limits on devices and can use monitoring software, which now handily comes with the ability to use the GPS located in their child's pocket and saves everything they type and visit.
This may illicit intense frustration from a child, but "that may get them to confide in you what's happening with them, like bullying, which is also going to result in a personality change in a child. You'll see it. You'll know," says Cecil.
As parents work on protecting and educating themselves and their kids about online activity, US law enforcement has sifted through over 4.3 million tips since 1998 from the CyberTipline at the National Center for Missing and Exploited Children (NCMEC, casually pronounced like "Nick-Mick"). These tips work like any other tip-line and lead to some of the more sordid corners of the Internet. Internet Service Providers, like AT&T and Comcast, among others, plus service providers like Microsoft, Google, Apple, and others also submit tips based on illegal activity they see that violate the law and their Terms of Service. They are also federally-mandated to report illegal activity.
Together, Cecil says law enforcement is working to be proactive to catch people before they may do physical harm offline, instead of just being reactive.
Meanwhile, as the news cycle ends about Apple, Inc.'s high-profile request to unlock the iPhone used by the perpetrator of the San Bernardino terrorist attack, questions about law enforcement's role and capabilities around technology continue. Through all the requests of "government back doors", Cecil makes a sincere and simple plea for developers of devices, apps, and services: "Messaging providers aren't as law-enforcement friendly when we request documents anymore. Sometimes they'll even notify the suspect immediately [which can adversely harm investigations]. We recognize any type of application could be used for nefarious uses and nothing exists to prevent everything bad that can happen. The simplest thing that would help us is for services to maintain at least some IP addresses and device data (i.e., that a user is using a Samsung Galaxy S6) and require people to at least create an account and authenticate it in a secure way."
If you suspect or notice illegal activity online, call 1-800-THE-LOST (843-5678) or visit Cybertipline.com to file a report that will automatically be sent to appropriate jurisdictions.
What Parents Can Do to Protect Children Online
Set limits on "Internet Time" and device usage.
Check devices weekly and consider installing child-monitoring software to securely log messages, chats, histories, and more.
Play console games with your children to know what they're doing, what they're about, and understand them.
Ask for help learning about what a game, app, or service is from your children.
Have open, honest, conversations about what's happening on and offline.