Sponsored by Lighthouse Autism Center, the room provides a comfortable place before and after forensic interviews
Recently, an 11-year-old boy arrived at The CASIE Center in South Bend. Walking into the spacious front room like virtually every other child in the Center's thirty-year existence, he met a forensic interviewer and was warmly welcomed. But this boy was overwhelmed, unlike many kids who find the large waiting area's toys, books, and games exciting.
Sensing the child's discomfort, a staff member brought him to a new Sensory Room specifically designed for kids and teens with autism. He walked into the new space and, literally, felt his way to a more relaxed state of mind.
Here he could play with fidget toys, feel the strong embrace of weighted blankets, press his fingers into Play-Doh, squeeze special mats, and engage every corner of his mind's sensory-seeking behaviors before entering an interview room. The CASIE Center's agency dog was also nearby for him to visit after his interview.
"I will always remember him," says Sharon Szymanski, a Child Advocate at The CASIE Center. "It was amazing to see how he processed all this."
Achieving goals to provide more and better services to kids with special needs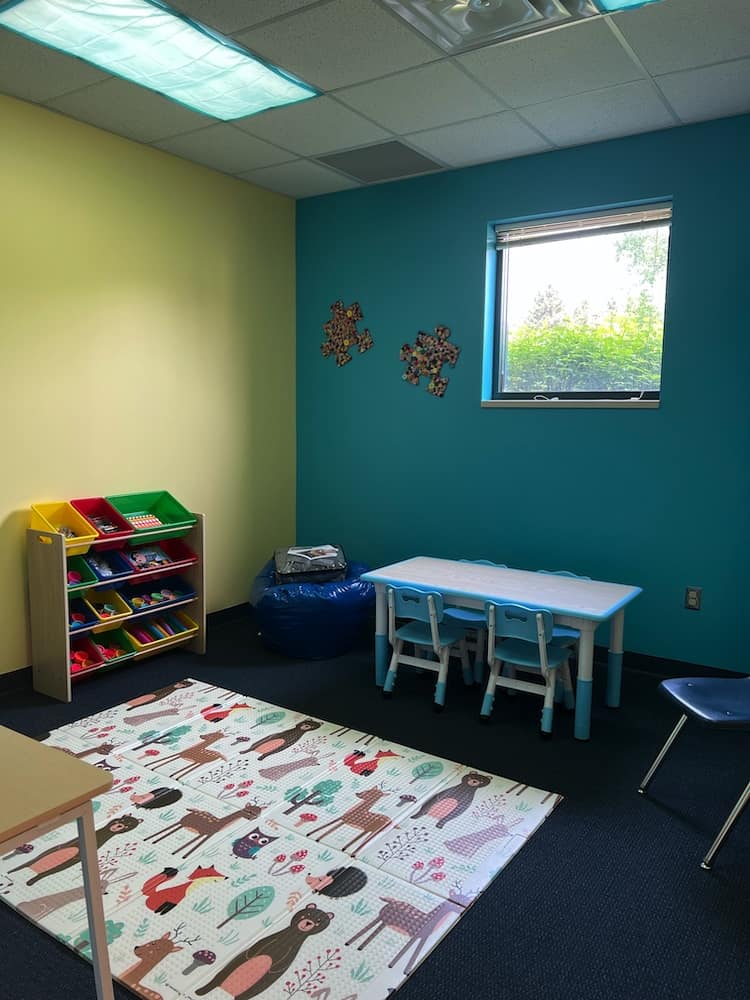 In the summer of 2022, the staff at The CASIE Center set new goals with their Victims of Crime Act grant. "One of our goals was outreach to special needs populations, which includes autism and those on the spectrum," says Szymanski.
As part of these goals, The CASIE Center staff started a fact-finding mission to speak with and visit regional partner agencies. "We've been having people come visit us, and we visit them. One we reached out to was Lighthouse Autism Center," says Szymanski. 
Lighthouse Autism Center is a growing therapeutic and applied behavioral therapy (ABA) center network. Founded in Mishawaka, Lighthouse Autism Center now has locations across the Midwest and serves tens of thousands of children with autism and related spectrum disorders yearly.
Szymanski and her colleagues listened and shared about the other's work in a meeting room at The CASIE Center when one mentioned, "You know we have funds we need to use to create these sensory rooms." With that, everyone shifted to how to make it a reality.
"They did all the funding, prepared the available room, offered us an extensive list of their list of paint colors to choose from, and they sent us a list of things they thought would be sensory appropriate," says Szymanski. 
Some items included specially-designed furnishings like tables, bean bag chairs, and weighted blankets. Simpler items like bubbles, fidget-friendly toys, puzzles and gadgets on the walls, and colorful clocks.
Based on the latest evidence about autism spectrum disorders, the room can respond to kids who are overly sensitive to some stimuli, like noise. It can function as a smaller, more comfortable and calming waiting room. Or, it can help those who are under-responsive and may seek out intense experiences to engage their senses and open up.
To better accommodate autistic users, Lighthouse construction crews covered up the traditional fluorescent lighting — a feature that's also potentially beneficial for youth with epilepsy. A unique light fixture featuring LED light strands will be installed soon so kids can literally "hold the light" in their hands. These and other features can also serve youth with ADHD, intellectual disabilities, anxiety, and other communication challenges.
Sensory Room will likely serve hundreds of kids annually
The CASIE Center estimates about 17% of the roughly 1,000 kids who come for a forensic interview each year will use the room. "But that's a very conservative number," says Szymanski. That estimate is based on parents self-reporting a disorder.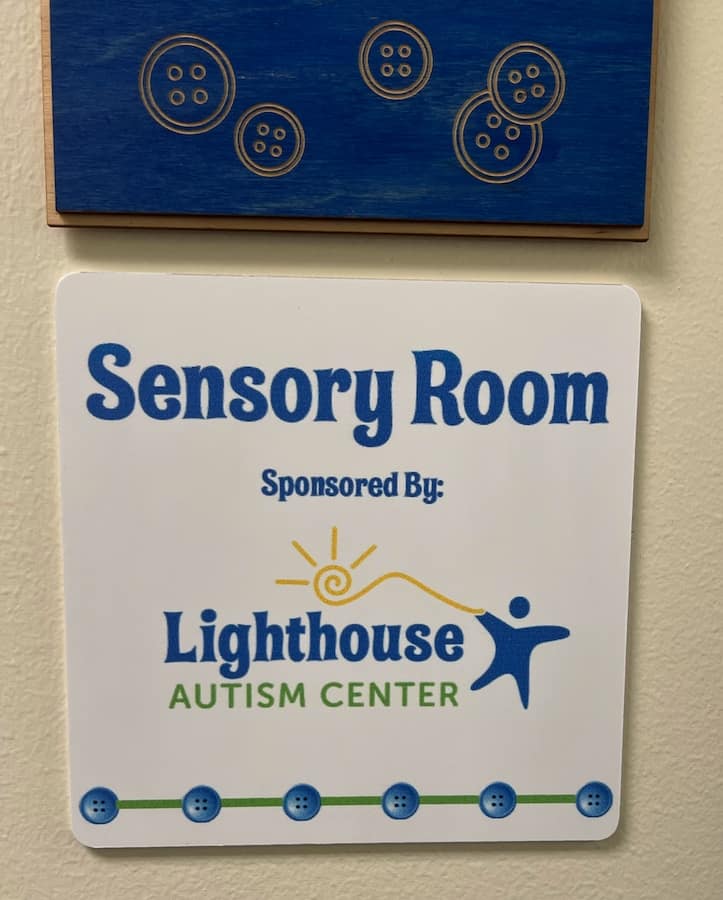 "When we schedule a child for an interview, we ask their age and the name of their DCS or law enforcement contact. We don't know whether a person's on the spectrum or has any other disability or disorder or not until they show up at the door."
Szymanski and everyone at The CASIE Center are in awe of the work Lighthouse provided. "One of their staffers hand-made puzzle pieces (like the autism awareness logo) and covered it in buttons as an art installment," says Szymanski. The CASIE Center has long placed a commemorative button in glass jars each time they conduct an interview, representing the different shapes, styles, and colors of the kids they serve.
Lighthouse has also arranged to help cover maintenance, including adding new toys or therapeutic devices that staffers may identify as helpful or needing replacing. Lighthouse will also cover paint or physical repairs inside the room.
"I can't even put into words the relationship that was built," says Szymanski. All they asked is we show their signage and name on the wall, and then they went one step further and personalized it with all those beautiful buttons."
You can learn more about Lighthouse Autism Center at https://lighthouseautismcenter.com/.