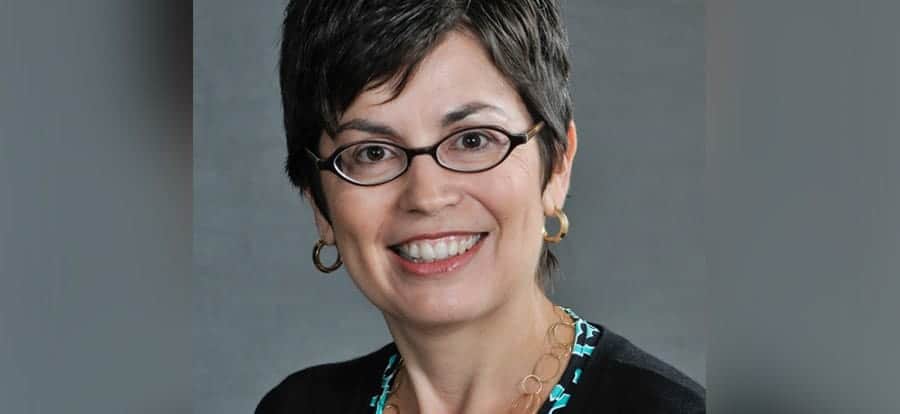 "The work to create a high performing multi-disciplinary team is never done. The nature of teams is change, there's constant turnover, and even with that when you reach the pinnacle of "high performing", that can quickly change," says Teresa Huizar to a room full of attendees at the Indiana Children's Justice Act Conference October 13. "The role of paying attention to the health and performance of your team is ongoing."
Huizar is the Executive Director of the National Children's Alliance. A role she moved into nearly a decade ago after serving as a CAC Director in Colorado in the 90s and as the Executive Director of the Western Regional Child Advocacy Center, covering 13 states at the turn of the millennium. Her keynote address to the hundreds of prosecutors, law enforcement officers, CAC directors and staff, forensic interviewers, victim advocates, caseworkers, and mental and social health providers at the Children's Justice Act Conference comes at a crucial time. "This is a key moment in all state chapters to be building relationships with their state VOCA administrators," says Huizar.
This year caps and limits on federal Victims of Crime Act funding has opened a wave of new and additional money to states. Says Huizar, "For the first time – and NCA was instrumental in this – forensic interviews are now reimbursable by VOCA. Many small CACs who struggled with their sustainability now have a unique opportunity to bill VOCA for a service where they couldn't before."
Across Indiana and the US, CACs are better-positioned to claim a reimbursement on a core service of the work of the multi-disciplinary team (MDT). Huizar's keynote address to the people who make up those MDTs across Indiana urges them to aim higher and become what she calls "high-performing MDTs".
"There's a lot of components to an MDT and most have a good understanding of their differing team members", says Huizar, adding, "That high level understanding is helpful in making sure everyone else is working together and staying in their own lane. That drives down a lot of conflict on teams. And high-performing teams treat conflict as a normal state of being and have processes for resolving conflict quickly."
Huizar continues, "High-performing MDTs get good results. I don't mean every case outcome results in a criminal prosecution, but they're driven by looking at the ultimate outcome for the child. When no more can be done on a case, a high-performing MDT is paying attention to the mental and physical health of the child. They're not running through the motions to get cases closed."


"High-performing MDTs routinize communication so they can share information that's critical to cases. There's many ingredients to this but a great deal has to do with the team itself and having the kind of processes in place so new members have a way to step into a role without fumbling around," says Huizar.
Huizar's quick to caution against prescribing a default template for a team as "what works for one team may not work for another". Variability in size, scope, and resources of the team directly impacts what can and can't work for them. As a specific example, Huizar comes reiterates how teams communicate. "In some large CACs new team members may shadow others in the same role on the team. In a smaller CAC that's possibly unlikely in terms of allocating time, but they can have a new team member handbook. Maybe there's a defined time they can come observe or see the CAC or a forensic interview." Huizar encourages teams to ask themselves what, if anything, they're handing to new team members. "We sometimes forget that MDTs have their own language with endless acronyms. We have to recognize how foreign that is. High-performing MDTs provide reference materials. They make a real effort to recognize how hard it is to come into a tight-knit group."
Huizar suggests CACs of all sizes take a closer look at how they handle case review, bringing in new members, and thanking outgoing members. "What do you do to put members at ease and how do you recognize outgoing members so they're thanked for their services and get closure with the team? High-performing MDTs manage all three of those processes."
In addition to her keynote speech on high-performing MDTs, Huizar held an open dialogue session on improving victim advocacy services. "We're not only covering the impact from new accreditation standards, but also reviewing new census data and CAC statistics," says Huizar.
The Indiana Children's Justice Act Conference was held at the Wyndham Indianapolis West hotel October 12-13, 2016. The event aims to improve Indiana's response to cases of child abuse and neglect. Information on next year's conference will ultimately be available at http://cja-indiana.org.